Supporting eligible small rural businesses in drought-affected areas to identify important decisions, take action and move forward with confidence.
Rural Business Support (RBS) is delivering a Small Business Drought Program to assist small rural businesses in drought-affected areas to understand their financial position, identify options and implement plans to improve their viability and build resilience for future droughts.
Is my business eligible to access the SBDP?
To be eligible for the program your small business must:
• employ 19 or fewer people
• be experiencing financial hardship, or at imminent risk of financial hardship
• be located in a drought-affected area
• RURAL BUSINESS SUPPORT – FREECALL 1800 836 211  – https://www.ruralbusinesssupport.org.au/what-we-do/small-business-financial-counselling/
Please call us on 1800 836 211 to discuss your eligibility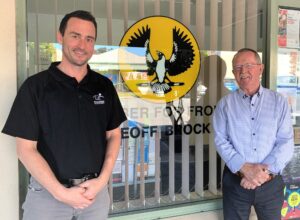 Matthew Petherick from Rural Business Support with Geoff.